INTEGRATED NUTRIENT MANAGEMENT IN VEGETABLES- SUCCESS STORIES
---
With the objective of improving productivity, sustaining yield and soil health, farmer level demonstration trials were initiated in 2014 in different districts. One of the treatments in these trials was soil test based integrated nutrient management system combining lime, organic manures, bio fertilizers and inorganic fertilizers which was compared with the farmer level practices to highlight the benefits accrued. Trials were carried out in farmers fields with paddy, tapioca, banana, and vegetables. The results clearly indicated the superiority of soil test based integrated nutrient management with organics and bio fertilizer, bringing about a positive influence in economic benefits
Transfer of integrated nutrient management technology needs validation in the farm level. The Department of Agriculture in collaboration with the National Institute of Plant Health Management, Hyderabad, is conducting a Post Graduate Diploma Programme on Plant Health for Agricultural Officers of the State. Conduct of field trials on soil and plant health management is part of the curriculum.
Under this programme, multi-locational field trials on various crops have been undertaken and results are encouraging. Many farmers are now adopting this technology for improving crop productivity and sustaining soil health.
The success stories detailed below are projections from experiments conducted in different districts by the Agricultural Officers in small plots of farmer's fields. The results are indicative of the positive effect of soil test based integrated nutrient management. However, when extended to larger areas the increase in yields/benefits accrued may not be same as the projections and slight variations in results are expected.
A few success stories on various crops are presented
CROP: PADDY
---
DISTRICT : KANNUR
BLOCK : KALLIASSERI
PANCHAYATH : CHERUTHAZHAM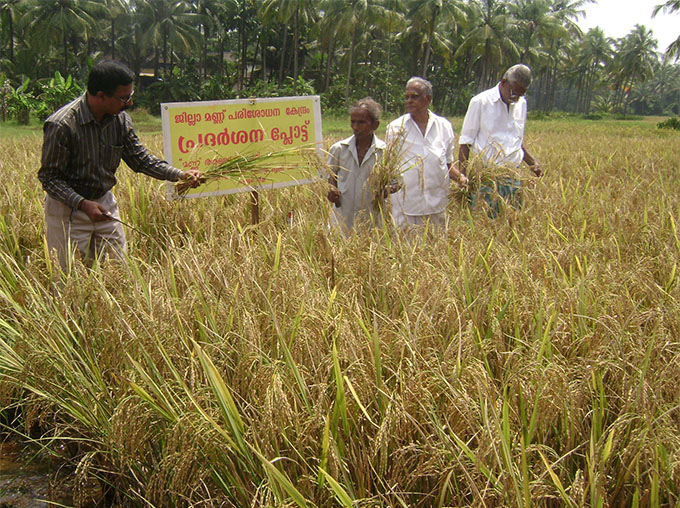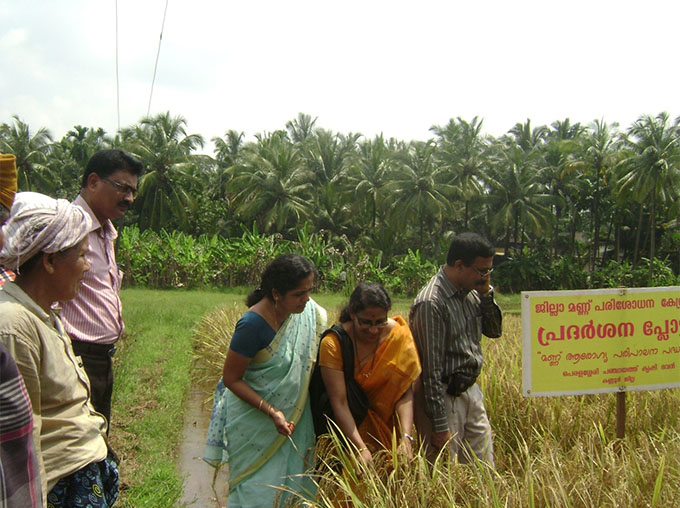 Total Area of Panchayath : 3218 ha
Agro ecological unit : Northern Laterite agro-ecological unit
Climate : Tropical humid monsoon type
Annual Rainfall : 3217 mm
Crops cultivated : Coconut, rice, rubber, cashew and areca nut
SOIL TEST RESULTS
Strongly acidic, low in potassium, deficient in calcium, magnesium and boron

Farmer Address
Production(ha)
Farmer's practices
Soil test based
Sri. K.Damodharan
Cheruthazham P.O, Kannur
3100 kg/ha (32400 Rs/ha)
5200 kg/ha (45800 Rs/ha)
Results indicated positive influence of soil test based integrated nutrient application over farmers' practices
Yield increase over farmers' practices: 67 %
Increase in income over farmers' practices: 41 %
SOURCE : Krishi Bhavan, Vadakkancherry, Palakkad Distict
CROP: PADDY
---
DISTRICT : PALAKKAD
BLOCK : ALATHUR
PANCHAYATH : VADAKKANCHERRY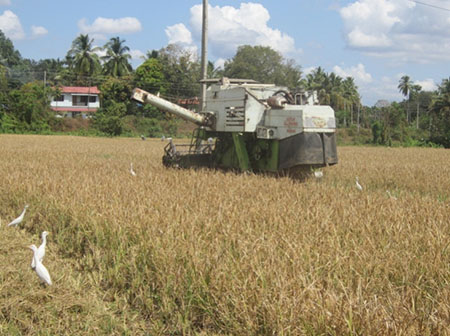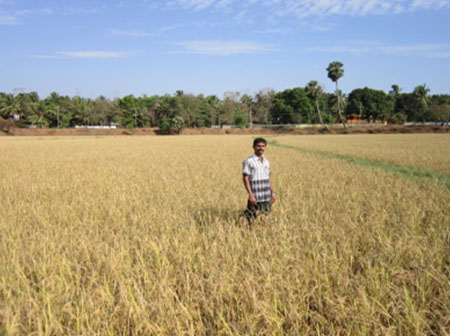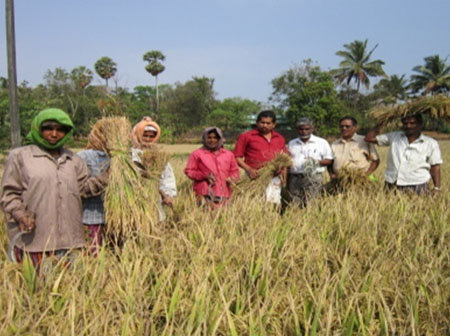 Total Area of Panchayath : 3788 ha
Agro ecological unit : Central Plain agro-ecological unit
Climate : Tropical sub humid monsoon type
Annual Rainfall : 1966 mm
Mean annual temperature : 27.6 °C
Crops cultivated : Rice,coconut, rubber and banana
SOIL TEST RESULTS
Strongly acidic, low in available potassium and deficient in boron

Farmer Address
Production(ha)
Farmer's practices
Soil test based
Kuruvai padasekharam, Vadakkancherry
4250 kg/ha
5500 kg/ha
included biofertilizers and VAM

Results indicated positive influence of soil test based integrated nutrient application over farmers' practices
Yield increase over farmers' practices: 30 %
Increase in net profit over farmers' practices: 24 %
SOURCE : Shri. K.P. Suresh , Agricultural Officer , Krishi Bhavan, Angadippuram, Malappuram District
CROP: PADDY (VAR. PONMANI)
---
DISTRICT : MALAPPURAM
BLOCK : PERINTHALMANNA
PANCHAYATH : ANGADIPURAM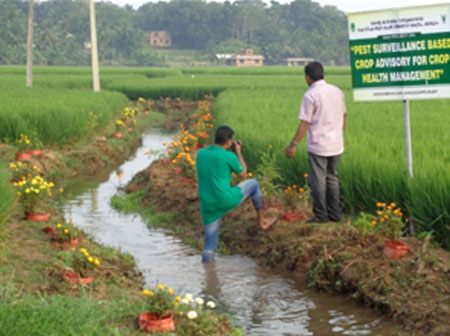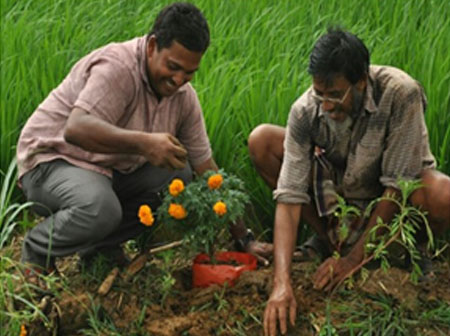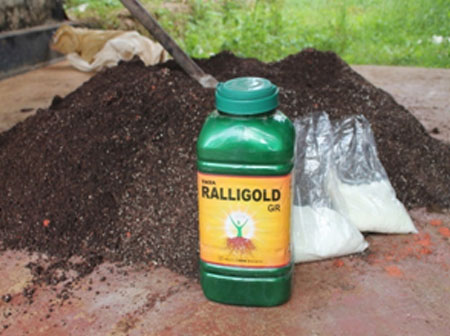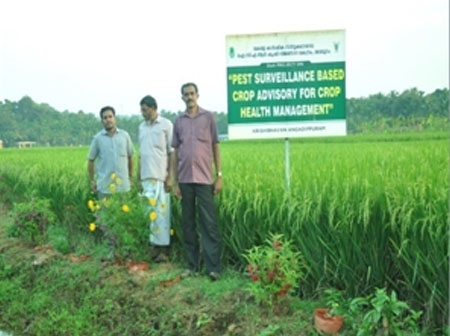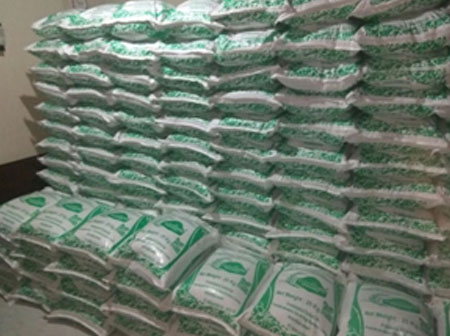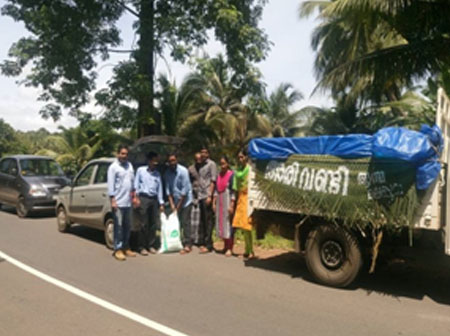 Total Area of Panchayath : 3694 ha
Agro ecological unit : Northern Laterite agro-ecological unit
Climate : Tropical humid monsoon type
Annual Rainfall : 3217 mm
Mean annual temperature : 27.3 °C
Crops cultivated : Coconut, rubber, banana, tapioca,pepper and rice
SOIL TEST RESULTS
Strongly acidic, medium in organic carbon and potassium, high in phosphorus, and deficient in magnesium and boron

Farmer Address
Total Area
Shri. Yousaf, Pothukkattil (H)
Padasekharam Convener, Pariyapuram
Fallow land at Angadipuram (Kayilipadam)
8 acres
Paddy cultivated on fallow lands in 2018 with the following practices:
Bio Priming of Paddy seeds with Pseudomonas
Root dipping of seed mat in trichoderma slurry
Agro Ecological System Analysis -Ecological engineering
Fertilizer application based Soil test
Yield of paddy from 8 acres : 30 tons
Productivity of paddy (t/ha): 9.3 ( as against the average local productivity of 3.75 t/ha)
Marketing strategy: Through Social Media-DoorDelivery
SOURCE : Shri. K.P. Suresh , A.O., Krishi Bhavan – Angadippuram & Agro Service Centre
CROP: PADDY
---
DISTRICT : ERNAKULAM
BLOCK : VAZHAKKULAM
PANCHAYATH : CHOORNIKKARA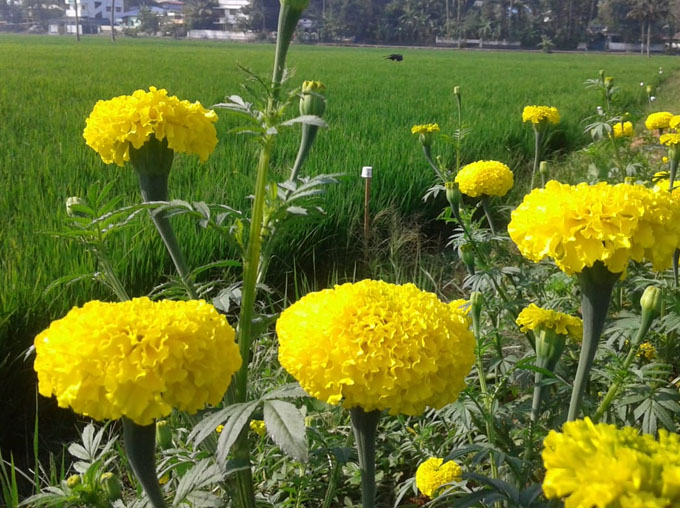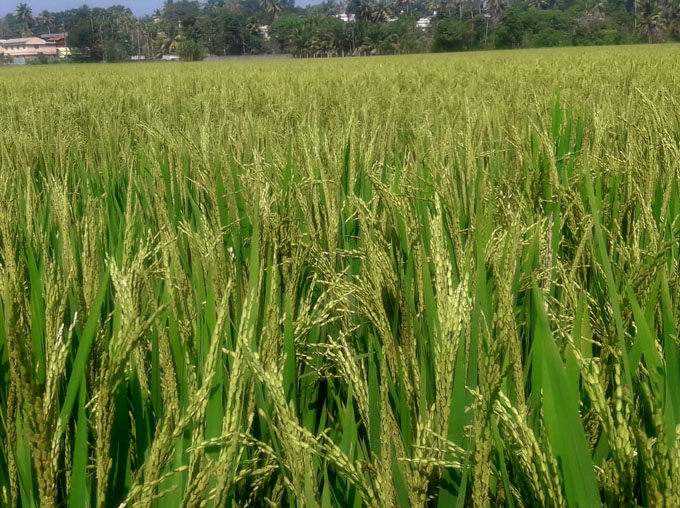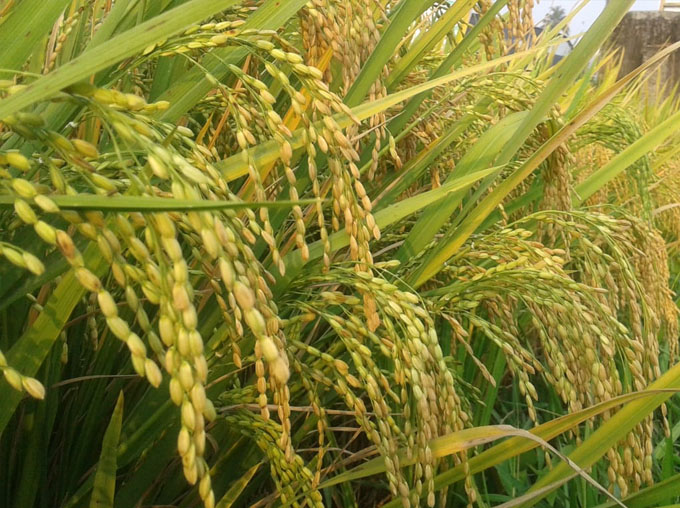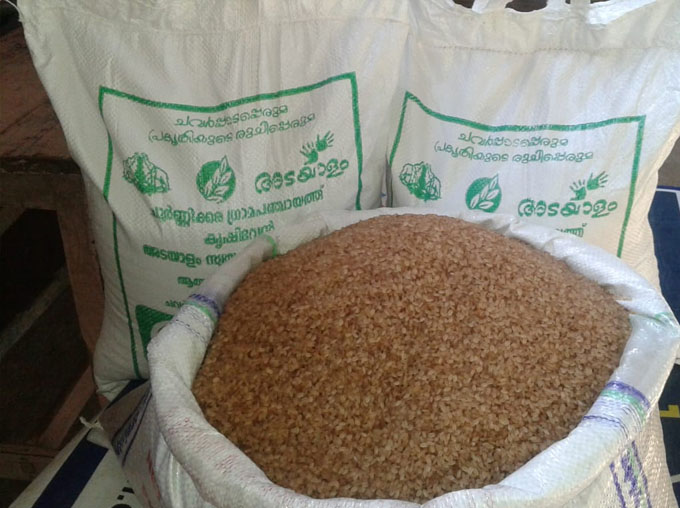 Total Area of Panchayath : 1101 ha
Agro ecological unit : South Central Laterite agro-ecological unit
Climate : Tropical humid monsoon type
Annual Rainfall : 2827 mm
Mean annual temperature : 26.5 °C
Crops cultivated : Coconut, rubber, paddy and banana
SOIL TEST RESULTS
Acidic, high in organic carbon and phosphorus, and deficient in calcium, magnesium and boron

Farmer Address
Total Area (ha)
Group Initiate of 'Adayalam'- A group of young farmers
Fallow land at Choornikkara panchayat
15 acres during first year and 30 acres during second year
Paddy cultivated on fallow lands in 2018 with the following practices:
Two week old seedlings were planted using transplanters
Plant protection measures through green chemicals
VAM and Pseudomonas were the bio agents
Agro Ecological System Analysis -Ecological engineering
Lime (dolomite) and fertilizer application based on Soil test
Productivity of rice: 1St year : 9.8 tonnes/ha | 2nd year : 10.1 tonnes/ha
Marketing strategy: Branded rice "Choornikkara kuthari"
SOURCE : Shri John Sherry, Agricultural Officer, Krishibhavan, Choornikkara, Ernakulam District
CROP: TAPIOCA
---
DISTRICT : MALAPPURAM
BLOCK : TIRUR
PANCHAYATH : VETTOM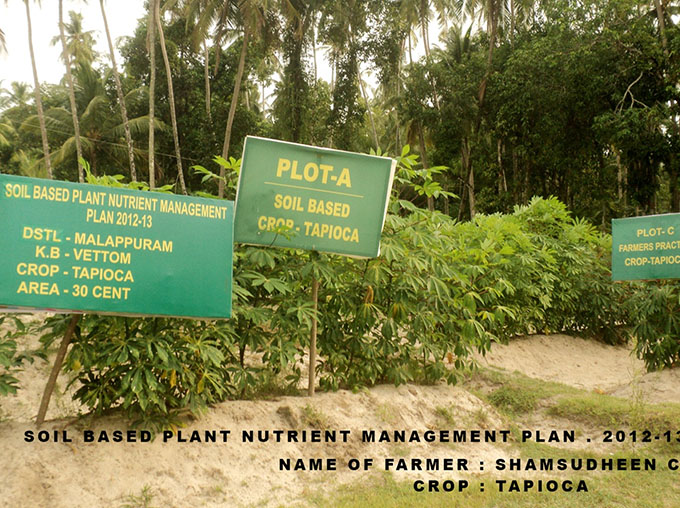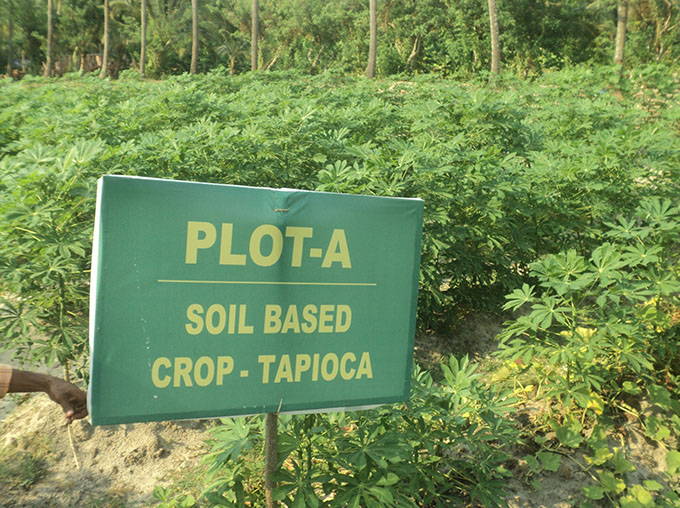 Total Area of Panchayath : 2160 ha
Agro ecological unit : Northern Coastal Plain agro-ecological unit
Climate : Tropical humid monsoon type
Annual Rainfall : 3133 mm
Mean annual temperature : 28.0 °C
Crops cultivated : Coconut, rice, cashew and pepper
SOIL TEST RESULTS
Strongly acidic, low in organic carbon and deficient in calcium and magnesium

Farmer Address
Production(ha)
Farmer's practices
POP (KAU)
Soil test based
Sri. Shamsudheen C.M
Chundanveettil Mandayapurath House, Vettom
11750 kg/ha(114050 Rs)
11250 kg/ha(103400 Rs)
13000 kg/ha(151600 Rs)
Results indicated positive influence of soil test based nutrient application over POP based and farmers' practices
Increase in profit over farmers' practices : 32 %
SOURCE : Krishi Bhavan, Vettom, Malappuram District
CROP: BITTER GOURD (VAR. PRIYANKA)
---
DISTRICT : PATHANAMTHITTA
BLOCK : KOIPURAM
PANCHAYATH : PURAMATTOM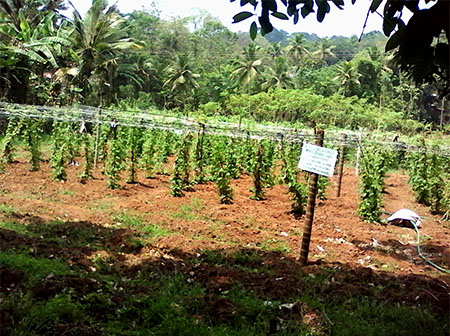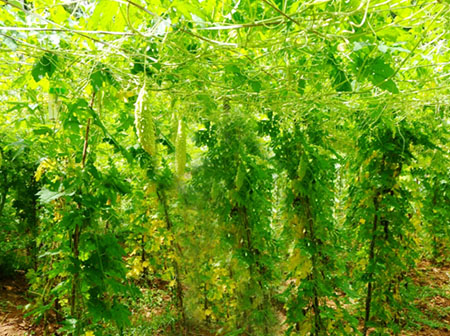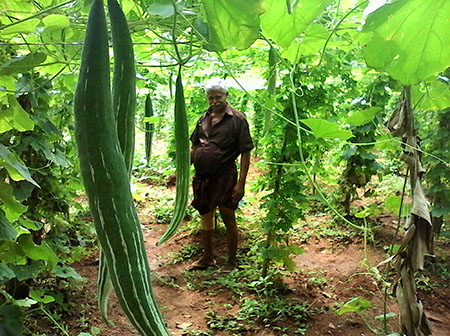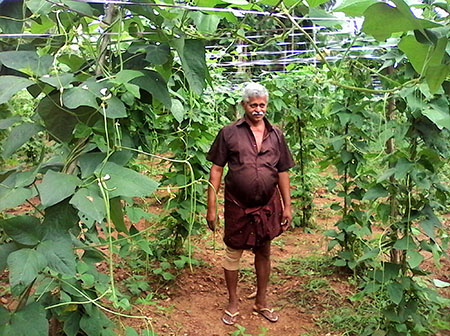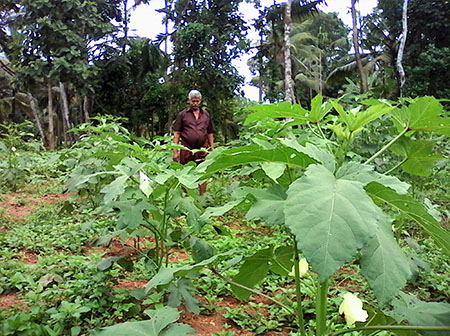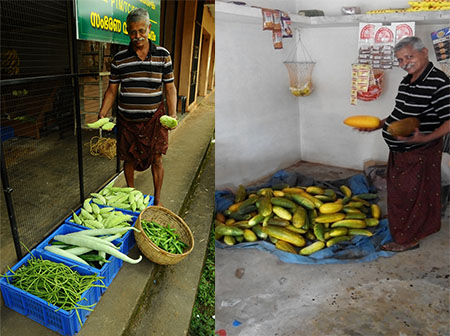 Total Area of Panchayath : 1466 ha
Agro ecological unit : South Central Laterite agro-ecological unit delineated to represent the midland laterite terrain with typical laterite soils
Climate : Tropical humid monsoon type
Annual Rainfall : 2827 mm
Mean annual temperature : 26.5 °C
Crops cultivated : Rubber, coconut, tapioca, pepper, banana
SOIL TEST RESULTS
Strongly acidic, low in phosphorus and potassium and deficient in calcium, magnesium, zinc and boron

Farmer Address
Production(ha)
Farmer's practices
Farmers' practices + AMF
Soil test based
Soil test based + AMF
Sri Alex Mathew
Komattu house, Mundamala P.O, Puramattom
15.21 Ton(Rupees 2.78 Lakhs)
14.63 Ton(Rupees 2.70 Lakhs)
16.38 Ton(Rupees 3.33 Lakhs)
18.12 Ton(Rupees 4.16 Lakhs)
AMF- Arbiscular Mycorrhizal Fungi
Results indicated positive influence of soil test based integrated nutrient application over farmers' practices
Yield increase over farmers' practices : 23 %
Highest benefit cost ratio (2.2 ) is observed for 4th Treatment
Based on the success of the above field experiment, Sri Alex Mathew has converted his rubber area for vegetable crop cultivation (snake gourd, cowpea, bindi and cucumber) adopting the same technology. He has now become a full time vegetable grower and has also opened an outlet for sale of the produce
SOURCE : PGDPHM dissertation on Effect of Vesicular Arbuscular Mycorrhiza on yield of bitter gourd (Momordica charantia) (var. Priyanka), 2015 by Smt. Regy V.J., Agricultural Officer , Krishi Bhavan, Puramattom, Pathanamthitta District
CROP: BEANS
---
DISTRICT : IDUKKI
BLOCK : DEVIKULAM
PANCHAYATH : KANTHALLOOR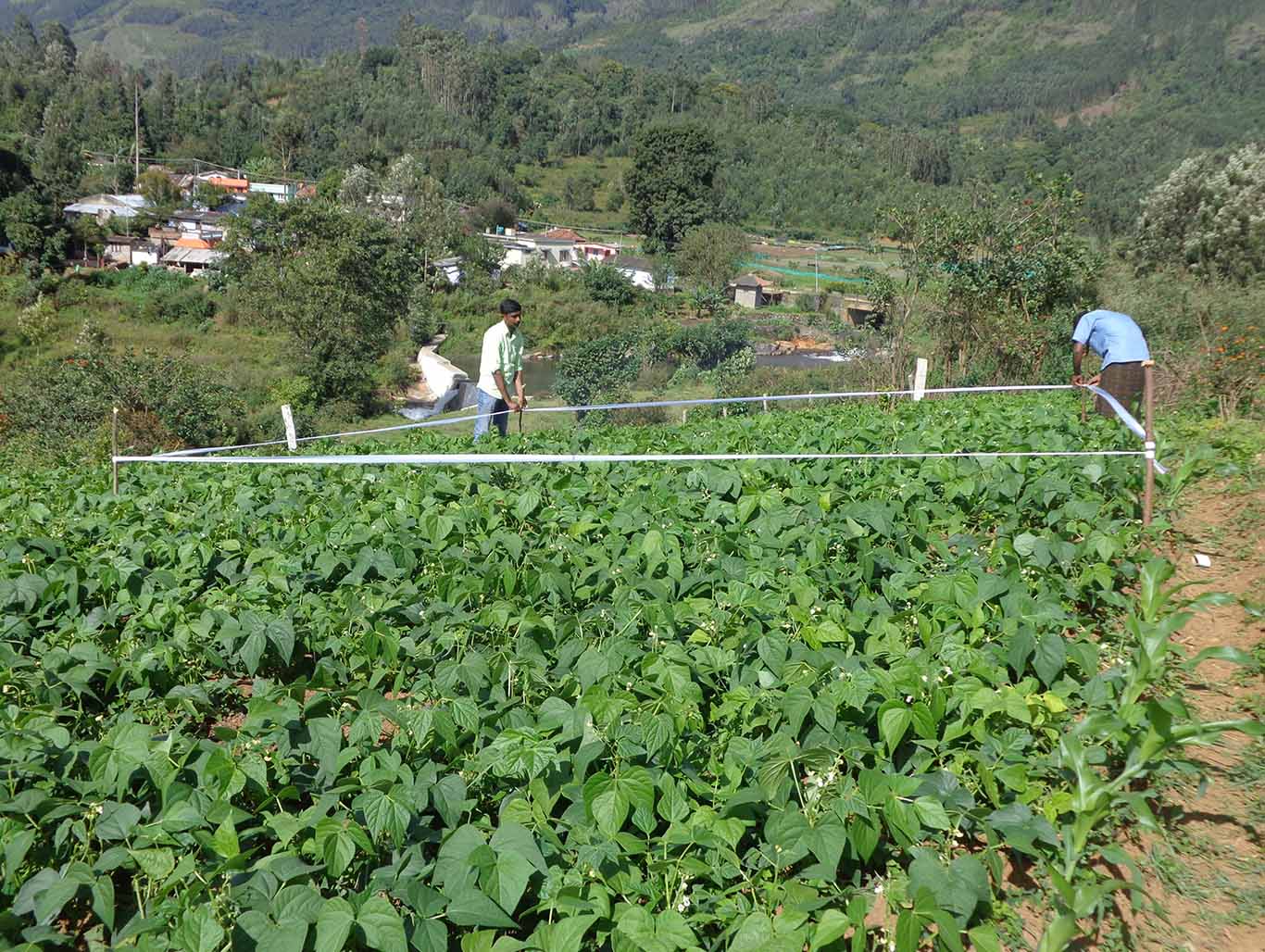 Total Area of Panchayath : 11620 ha
Agro ecological unit : Marayoor Dry Hills agro-ecological unit delineated to represent the low rainfall (Rain shadow) region of the high hill zone
Climate : Tropical sub humid monsoon type
Annual Rainfall : 1276 mm
Mean annual temperature : 23.7 °C
Crops cultivated : Arecanut, pepper, banana, coconut and cool season vegetables
SOIL TEST RESULTS
acidic, low in organic carbon, deficient in calcium, magnesium and boron

Farmer Address
Production(ha)
Farmer's practices
Soil test based
Yield increase
Sri. P.T. Mohandas
Mountain Shine House, Kanthalloor
12.6 Ton
18.7 Ton
48.4 %
Results indicated positive influence of soil test based nutrient application over farmers' practices
Yield increase over farmers' practices for beans: 48.4 %
SOURCE : Mr. K. Murugan Krishi Bhavan, Kanthalloor, Idukki District
CROP: CARROT
---
DISTRICT : IDUKKI
BLOCK : DEVIKULAM
PANCHAYATH : KANTHALLOOR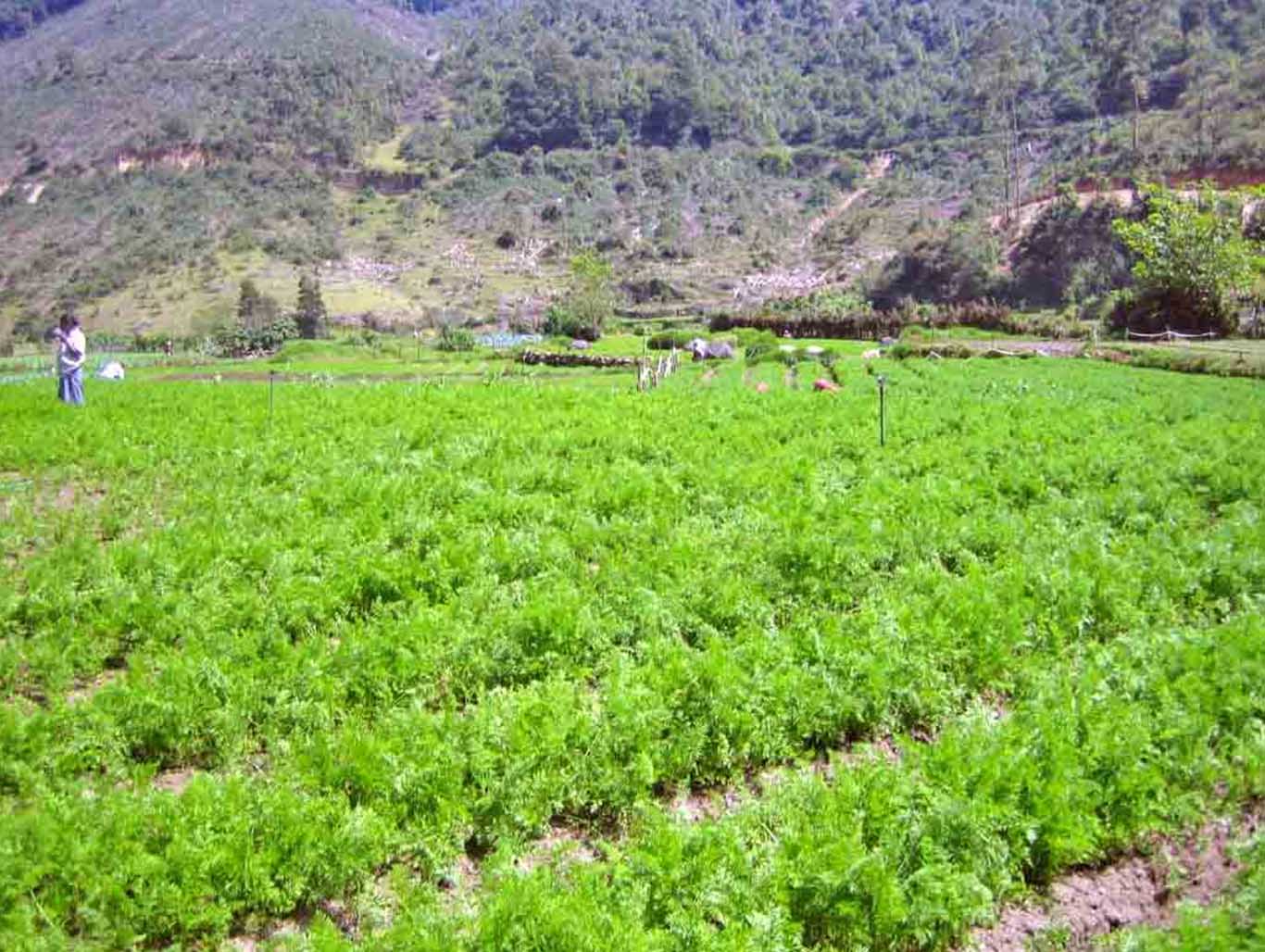 Total Area of Panchayath : 11620 ha
Agro ecological unit : Marayoor Dry Hills agro-ecological unit delineated to represent the low rainfall (Rain shadow) region of the high hill zone
Climate : Tropical sub humid monsoon type
Annual Rainfall : 1276 mm
Mean annual temperature : 23.7 °C
Crops cultivated : Arecanut, pepper, banana, coconut and cool season vegetables
SOIL TEST RESULTS
acidic, low in organic carbon, deficient in calcium, magnesium and boron

Farmer Address
Production(ha)
Farmer's practices
Soil test based
Yield increase (%)
Smt. Ambily Vijayan
Puthenparambil, GN Puram
18.3 Ton
28.1 Ton
53.5
Results indicated positive influence of soil test based nutrient application over farmers' practices
Yield increase over farmers' practices for carrot: 53.5 %
SOURCE : Mr. K. Murugan, Krishi Bhavan, Kanthalloor, Idukki District
CROP: SNAKE GOURD
---
DISTRICT : KOLLAM
BLOCK : KOTTARAKKARA
PANCHAYATH : EZHUKONE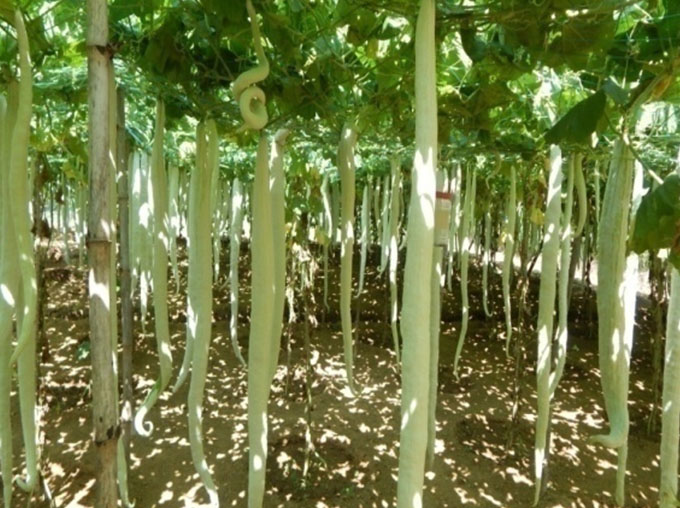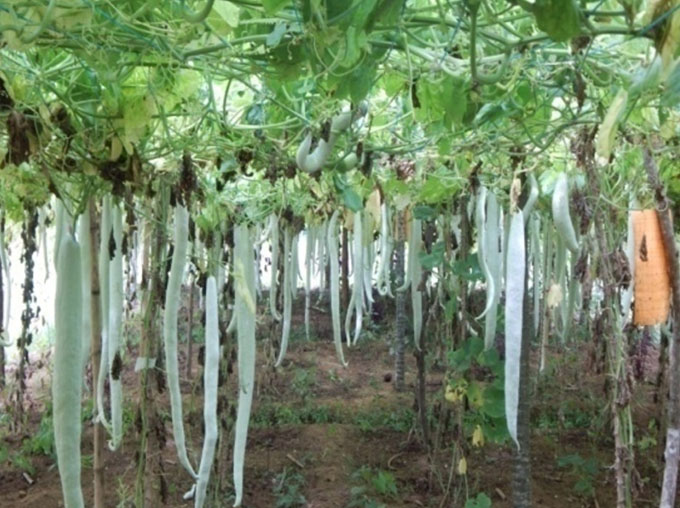 Total Area of Panchayath : 1724 ha
Agro ecological unit : The South Central Laterites agro- ecological unit
Climate : Tropical humid monsoon type
Annual Rainfall : 2827 mm
Mean annual temperature : 26.5 °C
Crops cultivated : Coconut, rubber, tapioca and banana
SOIL TEST RESULTS
Very strongly acidic, deficient in magnesium, sulphur and boron

Farmer Address : Sri. Narayana Pillai
Bindu Bhavanam, Kakkakottoor, Ezhukone

| Treatment | Yield (t/ha) | Gross income (Rs/ha) | Cost of cultivation (Rs/ha) | Net profit (Rs/ha) |
| --- | --- | --- | --- | --- |
| Farmers' practices | 39075 | 723000 | 296500 | 426500 |
| Farmers' practices+ AMF | 41100 | 760000 | 300500 | 459500 |
| POP (KAU) | 37425 | 692000 | 290000 | 402000 |
| Soil test based+ AMF | 43000 | 795500 | 304000 | 491500 |
AMF- Arbiscular Mycorrhizal Fungi
Results indicated positive influence of soil test based nutrient application over POP based and farmers' practices
Increase in profit over farmers' practices : 15 %
Highest benefit cost ratio (2.6 ) is observed for the 4th Treatment
SOURCE : PGDPHM dissertation on Effect of VAM on the growth and yield of Snake gourd in Kollam District, 2015 by Smt. Maya P., Agricultural Officer, Krishi Bhavan, Ezhukon, Kollam District
CROP: SNAKE GOURD (VAR. KOUMUDI)
---
DISTRICT : ALAPPUZHA
BLOCK : KANJIKUZHI
PANCHAYATH : KANJIKUZHI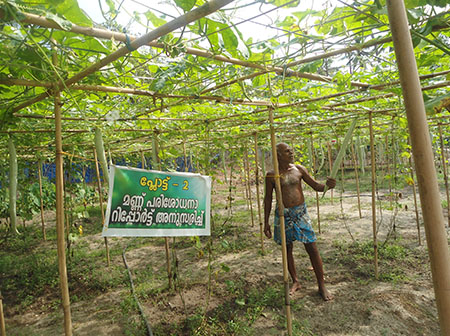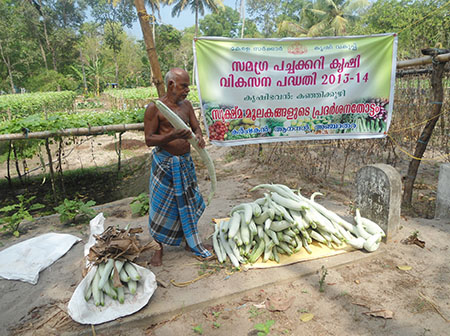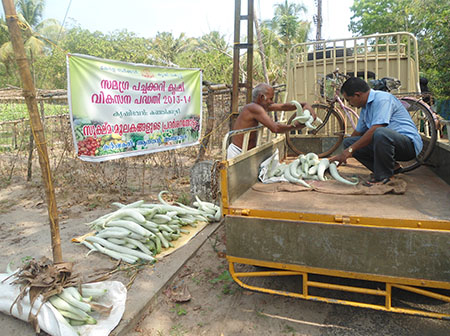 Total Area of Panchayath : 1662 ha
Agro ecological unit : Kuttanad special agro-ecological unit delineated to represent the waterlogged lands lying below sea level
Climate : Tropical humid monsoon type
Annual Rainfall : 2746 mm
Mean annual temperature : 27.6 °C
Crops cultivated : Coconut, cashew, areca nut and banana
SOIL TEST RESULTS
Strongly acidic, low in potassium and deficient in magnesium, zinc and boron

Farmer Address : Sri. Anandan, Anchathara, Mayithara P.O., Kanjikuzhy

| Treatment | Yield (t/ha) | Total income (Rs/ha) | Cost of cultivation (Rs/ha) | Net income (Rs/ha) | BC ratio |
| --- | --- | --- | --- | --- | --- |
| Farmers' practices | 17.4 | 330600 | 250000 | 80600 | 1.3 |
| POP (KAU) | 17.5 | 332500 | 250000 | 82500 | 1.3 |
| Soil test + Micronutrient mix | 27.0 | 513000 | 258000 | 25500 | 2.0 |
| Soil test based | 30.0 | 570000 | 258000 | 312000 | 2.2 |
Results indicated positive influence of soil test based integrated nutrient application over farmers' practices
Highest benefit cost ratio (2.2 ) is observed for the Treatment (soil test based)
SOURCE : Krishi Bhavan, Kanjikuzhy, Alappuzha District
CROP: COWPEA (VAR. SWETHA)
---
DISTRICT : KOTTAYAM
BLOCK : UZHAVOOR
PANCHAYATH : RAMAPURAM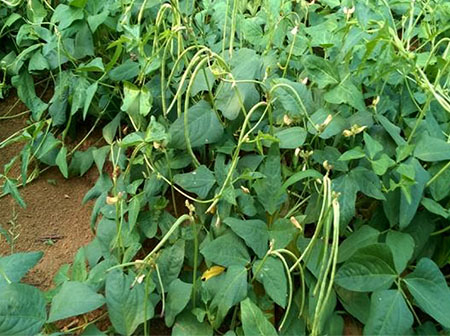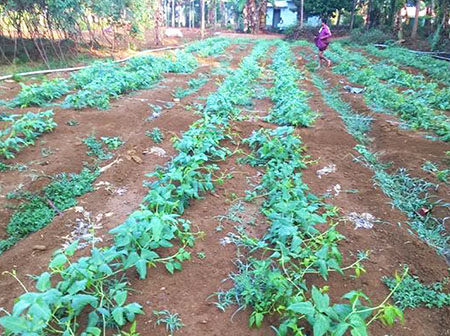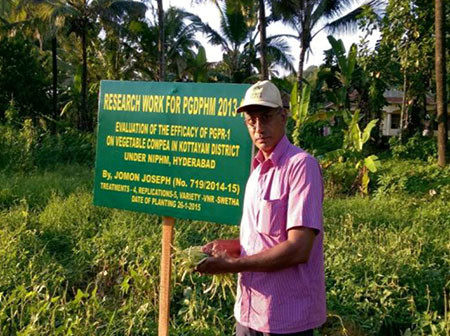 Total Area of Panchayath : 5454 ha
Agro ecological unit : The South Central Laterite agro-ecological unit representing the midland laterite region with typical laterite soils
Climate : Tropical humid monsoon type
Annual Rainfall : 2827mm
Mean annual temperature : 26.5 °C
Crops cultivated : : Rubber, coconut, tapioca, banana and pepper
SOIL TEST RESULTS
Strongly acidic, low in potassium and deficient in magnesium, zinc and boron

Farmer Address : Sri. Jose Thomas, Parekudiyil, Ramapuram

| Treatment | Yield (t/ha) | Total income (Rs/ha) | Cost of cultivation (Rs/ha) | Net income (Rs/ha) |
| --- | --- | --- | --- | --- |
| Farmers' practices | 5093 | 155343 | 128447 | 26896 |
| Farmers' practices+ PGPR | 6278 | 191473 | 129389 | 62084 |
| POP (KAU) | 5768 | 175936 | 132872 | 43064 |
| Soil test based INM+PGPR | 7619 | 232392 | 143500 | 88892 |
Results indicated positive influence of soil test based integrated nutrient application over farmers' practices
Yield increase over farmers' practices : 21 %
Highest benefit cost ratio (1.6 ) is observed for the 4th treatment
SOURCE : PGDPHM dissertation on Soil Test Based Integrated Nutrient Management in cowpea (Vigna unguiculata (L).Walp 2017 by Mr. Jomon Joseph, Agricultural Officer, Krishi Bhavan, Ramapuram , Kottayam District
CROP: COWPEA (VAR. SWETHA)
---
DISTRICT : IDUKKI
BLOCK : NEDUMKANDA
PANCHAYATH : RAJAKKAD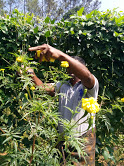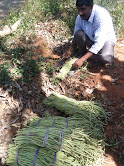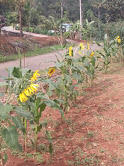 Total Area of Panchayath : 3103 ha
Agro ecological unit : Southern High Hills agro- ecological unit
Climate : Tropical humid monsoon type
Annual Rainfall : 3602 mm
Mean annual temperature : 21.6 °C
Crops cultivated : : Pepper, cardamom, rice and coconut
SOIL TEST RESULTS
Strongly acidic, low in phosphorus, deficient in magnesium, sulphur and boron

Farmer Address
Shri. E.C.Shajan
Elanjimattathil, Rajakkad, Idukki District
Soil test based fertilizer application integrated with VAM and Kunapajala gave 34 % more yield over farmer's practices
SOURCE : PGDPHM dissertation on Soil Test Based Integrated Nutrient Management in cowpea (Vigna unguiculata (L).Walp 2017 by Smt. Thankamoni, Agricultural Officer, Krishi Bhavan, Rajakkad, Idukki District
CROP: AMARANTHUS TRICOLOR (VAR. ARUN)
---
DISTRICT : ERNAKULAM
BLOCK : EDAPALLY
PANCHAYATH : MULAVUKAD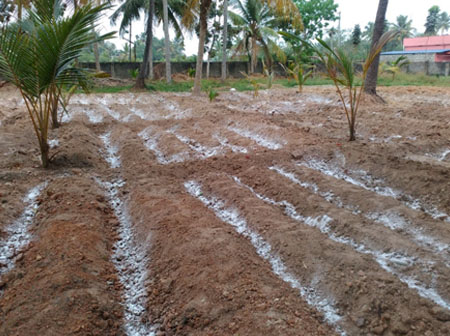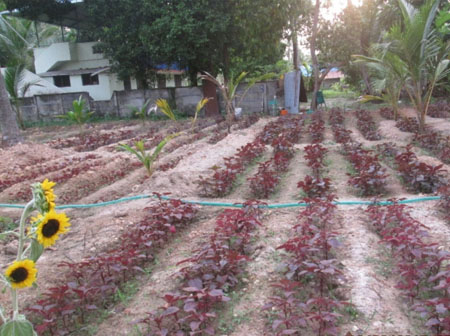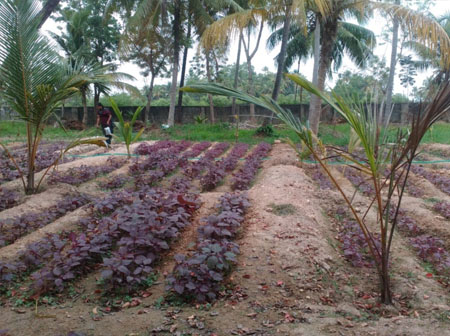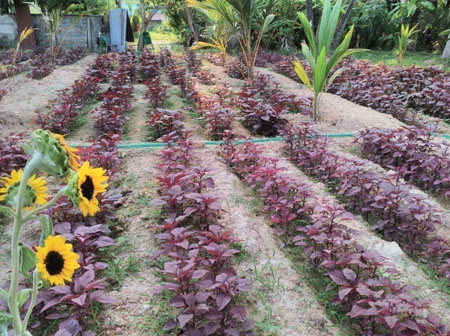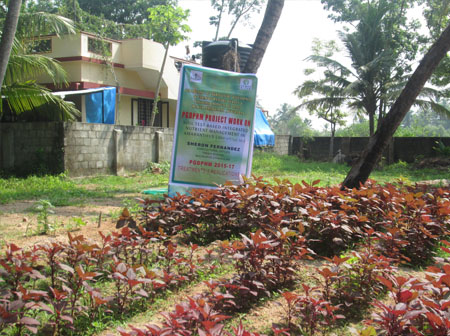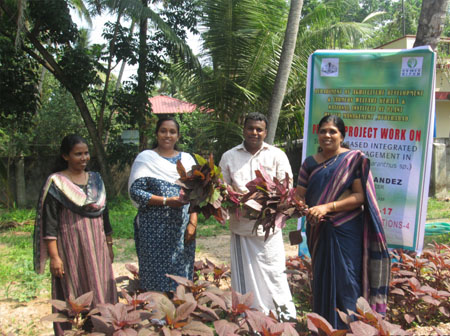 Total Area of Panchayath : 860 ha
Agro ecological unit : Pokkali Lands special agro-ecological unit
Climate : Tropical humid monsoon type
Annual Rainfall : 3049 mm
Mean annual temperature : 27.6 °C
Crops cultivated : : Coconut, arecanut and banana
SOIL TEST RESULTS
Acidic, medium in organic carbon and potassium, high in phosphorus and deficient in calcium, magnesium and boron

Farmer Address
Stella Maris Monastery
Mulavukad, Ernakulam District
Soil test based fertilizer application gave 50 % more yield over Organic POP recommendation of Kerala Agricultural University
SOURCE : PGDPHM dissertation on Soil Test Based Integrated Nutrient Management in Amaranthus (Amaranthus tricolor, Var Arun), 2017 by Smt. Sheron Fernandez, Agricultural Officer , Krishi Bhavan, Varapuzha, Ernakulam District
CROP: BHINDI
---
DISTRICT : KOZHIKODE
BLOCK : KUNNAMANGALAM
PANCHAYATH : PERUVAYAL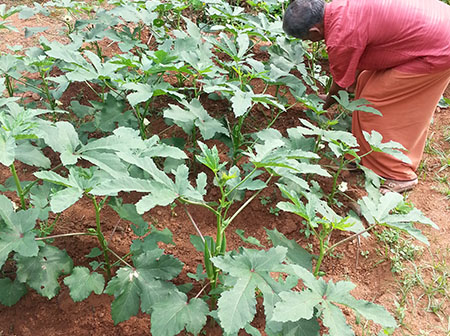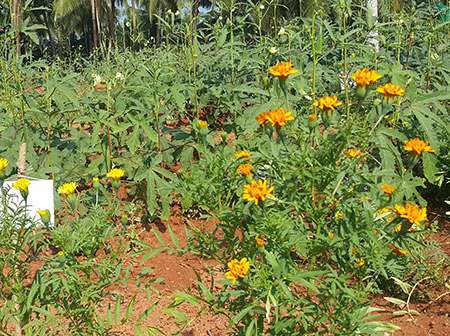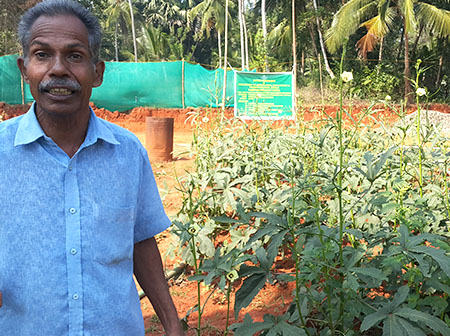 Total Area of Panchayath : 2639 ha
Agro ecological unit : Northern Laterite agro-ecological unit
Climate : Tropical humid monsoon type
Annual Rainfall : 3217 mm
Mean annual temperature : 27.3 °C
Crops cultivated : : Coconut, arecanut, banana and pepper
SOIL TEST RESULTS
Strongly acidic, high in phosphorus, deficient in calcium and magnesium

Farmer Address
Shri. Chandrasekharan Nair
Meledathu House, Kodassery Thazham,Peruvayal
Soil test based fertilizer application integrated with VAM and Kunapajala gave 24 % more yield over farmer's practices
SOURCE : PGDPHM dissertation on Soil Test Based Integrated Nutrient Management in bhindi (Abelmoschus esculentus), 2017 by Smt. Divya U.K., Agricultural Officer , Krishi Bhavan, Kadalundi, Kozhikode District
+ 91 471 2527567, + 91 471 2700777

© 2019 | System conceived,designed and implemented by IIITMK